Ski Trip 2023 - Les Menuires, Trois Vallées, France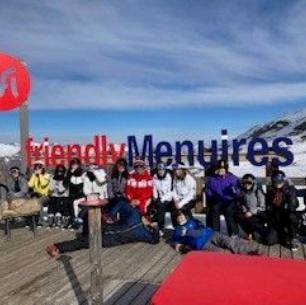 In the last week of February, 49 students from Meole Brace School took to the snowy slopes at les Menuires in Trois Vallées in France. This was a return visit to an area last visited in 2018. Conditions were glorious, with sunshine and blue skies each day. In an area with 370 different trails to roam, students made the very best of their time exploring all over the valley with new routes being attempted each day.
Students had an excellent time and made amazing progress over the six days. Some had previously skied and others had never been on a pair of skis before. Under the expert tuition of the instructors, the majority of groups progressed onto the red and blue slopes, enjoying views of Mont Blanc in the distance from heights of up to 2800 metres. Shooting over the jumps in the Snow Park was a great source of amusement, with students taking to the air with varying degrees of success!
It was an action-packed time for all, and everyone embraced the opportunity to try new things. Students took the opportunity to practise their French, and are proud of their many new skiing skills, in some cases even including 360 degree turns (on purpose!).
Students took part in a variety of evening activities, with a highlight being the pizza night in a local restaurant. An amusing spectacle was the Winter Games at night, where students competed in sub-zero temperatures to complete a sequence of challenges, bringing to the surface some very competitive natures. A breath-taking demonstration where the instructors from the valley skied down from the heights with torches in the dark created an amazing illuminated display alongside fifty drones with lights forming beautiful images in the night sky.