Young Textile Design Competition 2022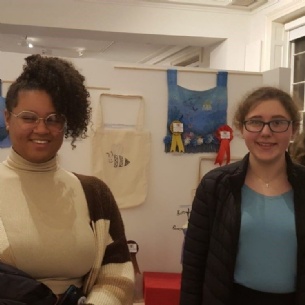 Last week, Shrewsbury Drapers held a presentation evening at The Shrewsbury Museum for The Young Textile Design Competition. Students from across the county were invited to enter and over 50 entries from twelve schools were judged including entries from further education establishments and for the adult competition.
The judges included Robin Arora, Head of Design (Menswear & Boyswear) for Asia's largest Fashion and Lifestyle retailer, Reliance Trend and Stephanie Jebbitt, a design consultant of furnishing fabric ranges, wallpapers and accessories. Robin spoke about the diverse range of techniques and materials used and how impressed he was with the high level of creativity shown at all levels.
The competition was divided into four categories KS3, KS4,16-22 year old students and adults.
For each category, individual prizes were awarded for Bronze, Silver and Gold, and certificates were also awarded for commended and highly commended. Six students were entered from Meole Brace, Takiera Headley, Daniel Bevan, Caitlin Millband, Ruby Casewell, Ruby Weston and Eleanor Morris. Daniel was awarded a highly commended certificate for his crocheted dinosaur and Takiera received a silver award for her embroidered tote bag.
Alice Rugman who left Meole Brace in 2021 also received awards for her Rock Pool Dress. She is studying fashion and textile design at Shrewsbury College.
Next years theme is 'East meets West'. Please speak to Mrs. Robinson if you are interested in entering this exciting competition!