Friends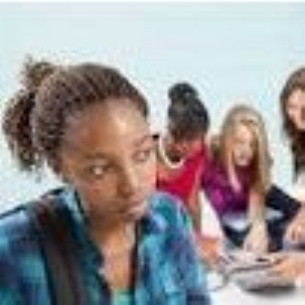 This week has been a bit tricky; my best friend has started hanging out with a new group and I'm not really part of it.
We're still messaging and talking to each other out of school, but in school at break and dinner, I'm left on my own. It's almost like she's embarrassed to be friends with me; like the new group won't talk to her if they know she's still speaking to me.
It sounds so trivial, but it's making me feel really sad and I think about it all the time. Sometimes, I can't concentrate on my homework and I'm drifting off in class too, which is getting me into trouble. There are other people I can hang out with in the day, but I'm not so close to them and it makes me focus even more on what is going on with my best friend.
My mum says that this can happen with friendships; as we grow, change and move through school, then college, then into the "real world", our relationships grow and change as well. I understand that, but I don't think it is me that is changing or growing here, it is my friend and I just feel left behind, a little bit worthless and really angry.
I talked to someone from the Student Wellbeing team about how I am feeling and that helped to give me a little bit of perspective. They've also given me some techniques to help me focus and to control the anger I feel about the situation; it's helping a lot, but I'm still sad about losing my friend. I guess I need to concentrate on myself and focus on the other friends in my life. Maybe we both need to move on and recognise that there are other people out there for both us.