Shropshire Astronomical Society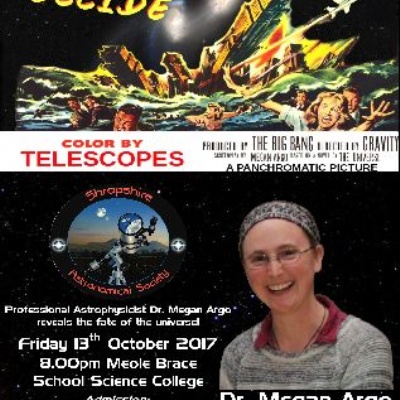 Shropshire Astronomical Society invites you to discover the destiny of our universe with professional astrophysicist and science communicator Dr. Megan Argo.
Megan Argo is a professional astrophysicist and lecturer in astronomy at the University of Central Lancashire in Preston. She extensively studies galaxies in the nearby universe with radio telescopes and is bringing her knowledge and discoveries to Shropshire.
Shropshire Astronomical Society will welcome Dr. Megan Argo to Meole Brace School this October for a fascinating talk about our universe and reveal its fate!
Admission: Adults £3 – Under 16's free.
Tickets available from Meole Brace School or on the door from 7.30pm – with the talk starting at 8pm. Date/Time Date(s) - 13/10/2017 8:00 pm - 10:00 pm