Oxbridge Conference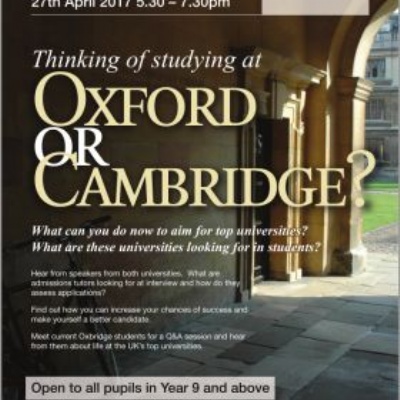 On Thursday 27th April, a party of 40 Meole Brace students and parents attended the Oxbridge Conference hosted at Shrewsbury High School. This included three generations of the family of Emile and Pascal Pugh (Year 9), as they were joined by their father and grand-father, a graduate of Cambridge himself.
The conference gave insightful information from former Oxbridge students about what the universities are looking for, and what students can do now.
Top Tips:
•Prioritise your GCSEs. They're your first opportunity to show your academic potential, and they will be looked at as part of the admissions process.
•Super-curricular. Top universities will want your enthusiasm for your favourite subjects to shine through. Read in and around your subject to show your passion.
Thank you to the parents of students who attended for joining us for the evening. We will look to provide lots more opportunities to provide high aspirations for the students of Meole Brace School.