Meole Brace Win Bedrock Implementation Award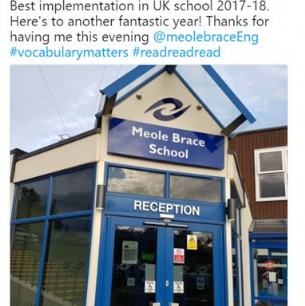 Meole Brace School are proud to announce that they have won Implementation School of the year.
Meole Brace School recently implemented a new homework system for students called 'Bedrock'. Bedrock Vocabulary is an online program which teaches vocabulary explicitly, whilst encouraging reading. It teaches students the academic vocabulary they need to succeed in school.
Thanks to the efforts of both students and staff, we are proud to announce that for 2017/2018, academic year, Meole Brace School was awarded the title of the best Implementation school of the year.
https://twitter.com/WaysWith_Words/status/1039573108758331398