Little Legends Celebration Evening, Thursday 19th April.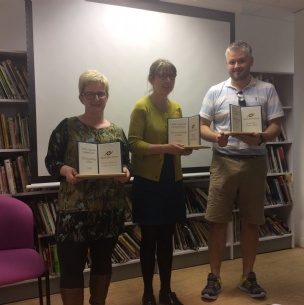 Throughout the Autumn term, we have been working with our partner schools to deliver a new creative writing initiative called "Little Legends".
The idea was very simple, our History department put forward three local legends, and the English department designed a support package for our friends in Yr6 to use in their own classrooms, with the task to write "what happened next?" The pupils were also asked to design a book cover for their story.
We had over 150 entries for the competition, and the standard was very high. The Art department judged the artwork and colleagues in the English department decided on the winning stories. The Drama department then dramatised the three winning script using our Yr7 pupils.
Although very warm, the evening was an enjoyable celebration of the creative abilities of our friends from our partner schools. It was my pleasure to award the winners, 1st runner ups and 2nd runner ups with trophies designed and made by our D&T department. The overall winning artwork entrant won a complete box set of The tails of Narnia as did the winning script. The overall winning script also received a book voucher with the value of £150 for their school.
I would like to thank my colleagues both here in Meole Brace School, but also in our partner schools for all their efforts to make this event happen. I was very impressed by the work entered by the Yr6 and we hope to run this event again next year.
Dr Smith
Assistant Headteacher; Primary liaison